The ViroFighter intelligent, autonomous UV disinfection robot was developed in cooperation with the European Knowledge Centre Ltd. and ELTE-Soft Ltd. to help protect against the coronavirus epidemic and to respond to the epidemiological challenges of the 21st century. In addition to ELTE-Soft Ltd., as the non-profit company of the university, ELTE lecturers and students also participated in the development of the robot, and they continuously participate in the framework of the jointly operated mechatronics laboratory.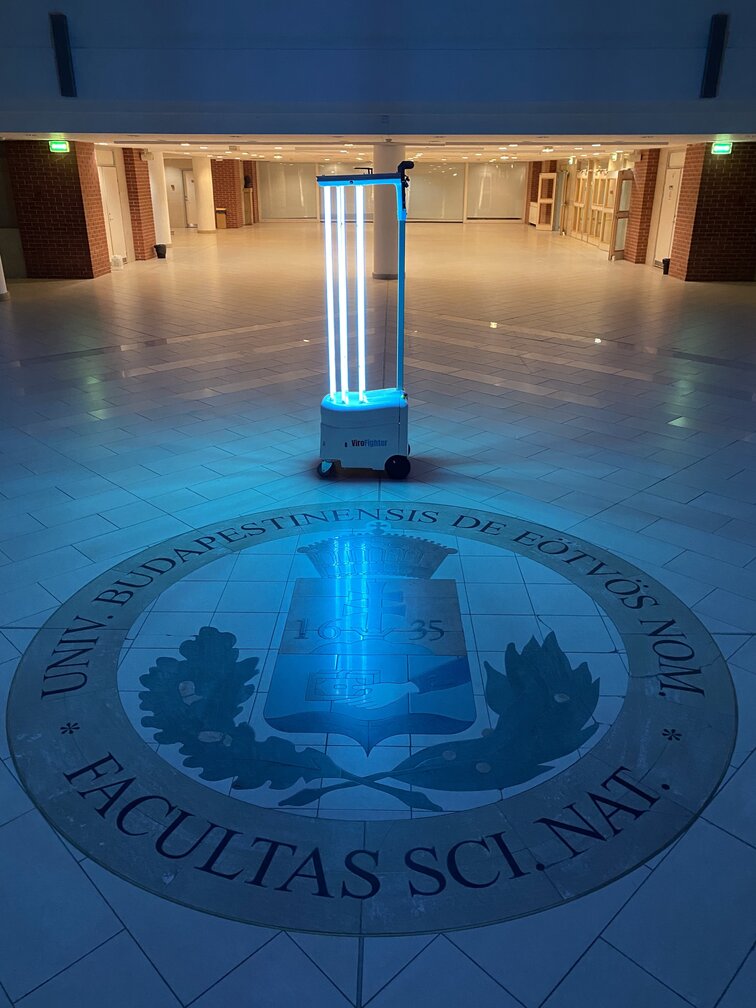 The current global pandemic has highlighted the paramount importance of general hygiene and within that, regular disinfection. Creating a safe indoor environment free of microorganisms can only be sustainable in the long run through an effective solution that ViroFighter autonomous UVC disinfection robot can offer.
Although UV disinfection robots are already available on the international markets, that inactivate microorganisms with the help of their built-in environmentally friendly UVC lamps, ViroFighter is a new-generation, autonomous UV disinfection robot. ViroFighter has been developed with an unmatched artificial intelligence powered engine to fully automate not only the disinfection but also the entire commissioning process, as well as to eliminate the shortcomings of existing UV disinfection robots on the market.
The ViroFighter autonomous UVC robot uses a number of forward-looking custom solutions that make the daily disinfection of interiors by orders of magnitude more efficient and put the operation of autonomous UV disinfection robots on a completely new ground. It has a number of structural-mechanical solutions, which were developed for the first time among autonomous disinfection robots, and which are thus considered to be a unique solution worldwide. ViroFighter is currently the world's smallest autonomous UV disinfection robot with the lowest weight and size, allowing easy portability. ViroFighter can be easily transported even in stairs in buildings without elevators. Thanks to its compact size, it is excellent not only for hospital disinfection or disinfection of other indoor rooms, but also for vehicle disinfection (metro, bus, train, airplane, ship, etc.). Efficiency is further enhanced by its custom developed, replaceable battery, which enables 24 hours of continuous operation.
There is a much bigger difference in terms of software: only ViroFighter uses self-learning image recognition and image processing functions based on an artificial intelligence engine, as well as automatic route planning and disinfection control modules that use this information. With these functions, it completely automates not only the disinfection process, but also the previously laborious and human resource-intensive commissioning. Artificial intelligence increases safe use: disinfection automatically stops when the robot detects a human or animal nearby.
Due to its wide range of disinfection capabilities and high speed, it is excellent for indoor sterilization of any type and size of hospital rooms, operating theaters and waiting rooms, such as medical offices. ViroFighter is an excellent choice for the daily disinfection of any indoor area including public institutions, offices, plants, laboratories, educational institutions, schools, kindergartens, nursing homes, airports, hotels among others.
Further information:
https://www.inf.elte.hu/content/preview.t.2998
https://www.smartuprobotics.com
https://smartuprobotics.com/wp-content/uploads/2021/04/rsz_img_1064.jpg
800
1200
Gyenis Róbert
https://smartuprobotics.com/wp-content/uploads/2020/10/smartup_robotics-logo_blue2-300x84.png
Gyenis Róbert
2021-04-25 18:49:34
2021-04-25 20:30:59
ViroFighter is the next generation, intelligent UV disinfection robot